Hen party
THE DIABOLICO IS IDEAL FOR YOUR HEN PARTY IN LYON.
Congratulations! You've been asked to organise the hen party for the bride-to-be! There is nothing better than to privatise the Diabolico 2 for an unforgettable and memorable afternoon or evening!
Board for a half day: we promise you'll be submerged by good vibes, a great atmosphere and a 100% chill moment! Checklist: Sun cream ok – glass in hand ok – a few treats to nibble and there we go: enjoy the upper deck for a tanning and relaxation session! The hostess will remain discreet whilst taking care of you! This is the day you have dreamt about for so long; relaxing, drinking, discovering the beautiful city of Lyon, your hen party will be a fantastic experience never to be forgotten!
Unique, Luxurious, VIP area
Your hen party: 100% girl, 100% unique.
Our boat The Mouche is also at your disposal for your hen party if the number of participants exceeds 10 people. Please contact us for a quote.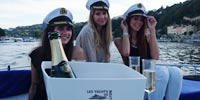 Privatise your yacht… Discover Lyon… River cruise mood… or Fiesta mood… pick your hen party style and we'll take care of the rest!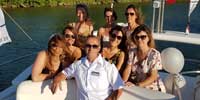 65€ on the basis of 10 people. **** including 1 captain, 1 hostess/maitre D and 1 bottle of champagne **** 2 hours navigating + 1 hour at quayside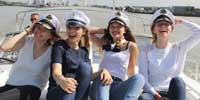 On board pictures of your hen party in Lyon to be taken away to remember this day forever!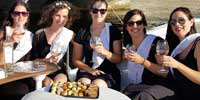 For those seeking a 100% girls' day out and 100% originality, we recommend the privatisation of our superb yacht, the Diabolico.