The Vaporetto is a boat in regular service on the Saône servicing 4 stations; Vaise / St Paul / Bellecour and Confluence, 7 days a week.
Info and prices
New for 2021: Unlimited pass at 39€ per year
The subscription cards will be valid until May 19, 2022. Ask our crew for your Subscription Card.
The shuttle is in service from 13h30 to 18h50

FROM APRIL TO OCTOBER:
From Wednesday to Sunday: Outside the school holiday period.
Monday to Sunday: In July & August and October school holidays
NOVEMBER, DECEMBER AND MARCH:
Shuttle service only on Wednesday and weekends

Real time info: 0820 20 69 20
Installation of external seating on the boat's foredeck
Ticket sale points:
– On board during your boarding via our ticket machines (cash tickets maximum accepted 20€ or by credit card).
Single ticket price during school holidays and from Wednesday to Sunday outside school holidays: 5€ including tax
Price for children between 5 and 12 years old: € 3 / person / trip
Free for children under 5 years old
!!! WARNING: compulsory disembarcation at each station during heavy traffic – Boarding 5min before departure.
Itinerary: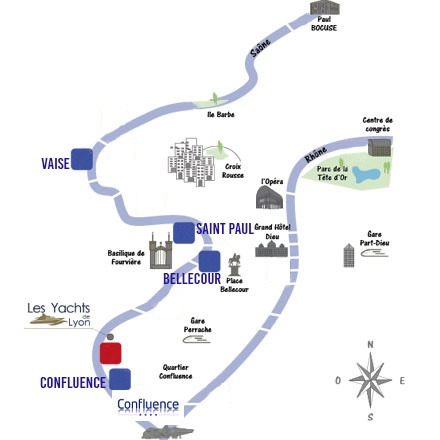 TIMETABLE
Schedule: Departure from VAISE Station – Towards Confluence
Vaise
Station
St Paul
Station
Bellecour
Station
CONFLUENCE
Terminal
–
–
–
13.30PM
14.10PM
14.20PM
14.30PM
14.50PM
15.30PM
15.40PM
15.50PM
16.10PM
16.50PM
17.00PM
17.10PM
17.30PM
18.10PM
18.20PM
18.30PM
18.50PM
Schedule: Departure Confluence Station – Towards Vaise
Confluence
Station
Bellecour
Station
St Paul
Station
Vaise
Station
13.30PM
13.50PM
14.00PM
14.10PM
14.50PM
15.10PM
15.20PM
15.30PM
16.10PM
16.30PM
16.40PM
16.50PM
17.30PM
17.50PM
18.00PM
18.10PM
Back to confluence at 18h50 – End of service
EMBARCATION POINT
Vaise Station: 9 Quai Arloing Lyon 09
St Paul Station: 16 Quai de Bondy Lyon 05
Bellecour Station: 11 Quai des Célestins Lyon 02
CONFLUENCE: facing the Confluence shopping centre